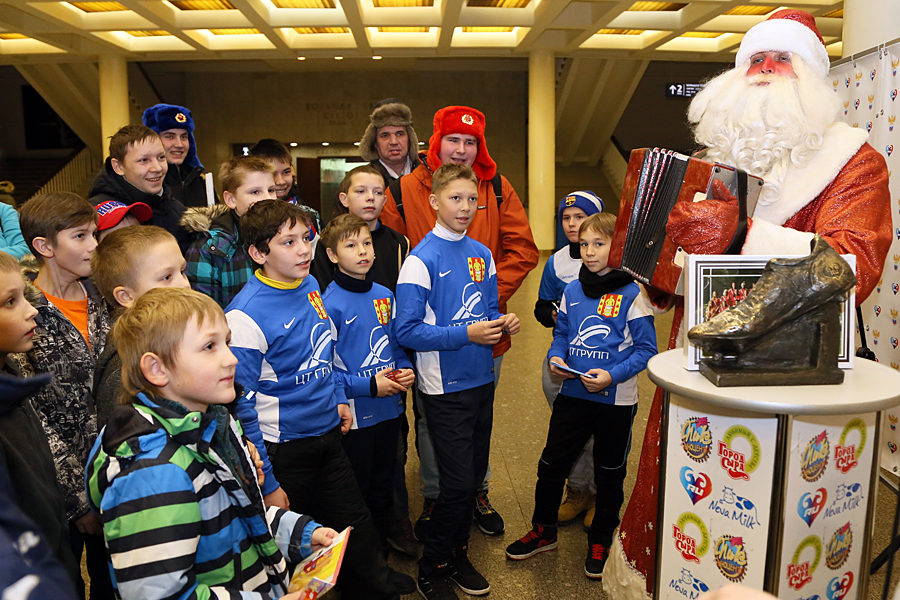 A Warm Oasis Near A Park Of Frost
It's so easy to differentiate a "pedestrian" and a "car user" in the loud lobby of Peterburgsky SCC during Granatkin Memorial this year. You don't need to practice a deductive method of Sherlock Holmes to tell that this extremely red cheeks citizen with a sharply whitened nose has just walked (or even run) through the thoroughly frozen Park Pobedy from the metro station of the same name to SCC. And this fan looks alright which means he has just carefully parked his car and hasn't turned into a piece of ice shortly walking from a parking lot to the entrance.
The winter has chained almost entire city on the Neva with a harsh January frost during these New Year holidays! But even "25 below zero" on the temperature meter cannot cancel the atmosphere of fun in the Peterburgsky SCC on Gagarina prospect. All you need is to buy a ticket (at a full price of only 300 rubles and there's a number of discount options) and you get into a brightly lightened lobby of the SCC where you can instantly forget about uncomfortable weather and choose entertainment for yourself. And only if you're concentrated just on football you will aim at the stands skipping hot tea and hot dogs, passing a kiosk with fan merchandising items and ignoring a chance to play football yourself – not the real one but on a kicker rather.
If you decide to get your child acquainted with joyful football of January under a roof, then first you'd better go to a cozy Fun City café on the ground floor and sign your kid in the Playstation football tournament. Emotions there might be probably even higher than on the main pitch of the Sports Complex. And if your child is still very little and continues to wait for gifts from Father Frost, then you'd better remain on the first floor. Father Frost himself (being tall and possessing a loud voice, just like a real Father Frost should look like) will play accordion for you and give presents to the youngest visitors of the football tournament.
If you are a bit superstitious and strongly believe you can't go far without luck in sport, we recommend you then to find the main lobby and to scrub with your hands... a football shoe, very similar to a real one but made of metal. This is an unusual shoe! It has been to the Brazilian city of Rio recently attending football World Cup 2014 there. Such a long journey is connected with an old football story. In 1958 during the World Cup Just Fontaine, a France national team striker, made it a fashion to scrub his football boot prior to the upcoming match... to get lucky. Would you guess how many goals Fontaine scored on that tournament? Thirteen! And this is an absolute record in the history of football. And so the heads of Russian national team supporters club named RUSSIA UNITES decided to organize such an opportunity to all the football lovers. You can't do any bad with this to any of our national teams including the U-18 team that is playing on Granatkin Memorial. What if this old superstition really works and does good?