Published on Friday, 09 January 2015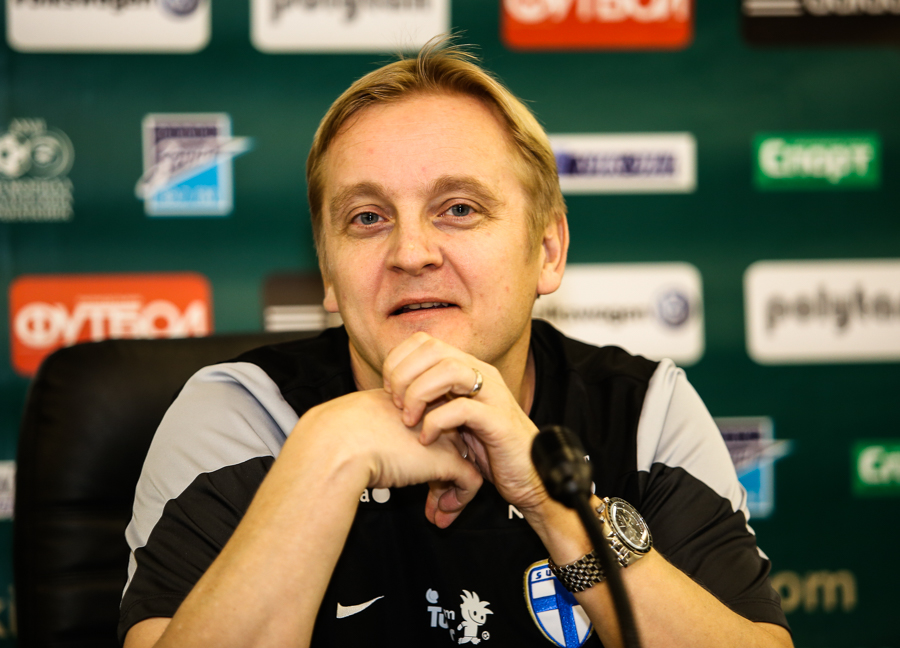 Jarkko Wiss: "I respect the family of Eremenko and like to come to St. Petersburg!"
45 matches for Finland national team. That is a significant record of defensive midfielder, native Tampere citizen Jarkko Wiss. Moreover, his selfless rough work in the central zone was to secure not someone, but the real star of the first magnitude, not only Finnish, but world football Jari Litmanen!
For the national team of Suomi Wiss performed for almost 11 years, changing four national championships that time – Finnish, Norwegian, English, and Scottish. Jarkko finished his career at 35 and entered the coach craft. He debuted with a national team U-15, further moved to «Tampere United» (where he played his last season) at the position of sport director, and then he became a head coach of that famous club. Still, a bit later Wiss came back to the youth Finnish football, joined the national team of Suomi on 1st of January 2014. Cheerful and smiling Finn visits Valentin Granatkin Memorial for the second time, delighting audience and journalists with his emotional team-managing manner.

– Jarkko, were you born in Tampere?
– Yes, that is my native town, I live there until now.
– Sport addicted Tampere is known all over the Europe – nor with its football, but with two hockey teams – «Tappara» and «Ilves». Why did you decide to play with a ball, nor with a puck?
– Who told you I haven`t played with a puck? Till my 16, when I entered high-school I played hockey. Then I stopped – football caught me up. Now I am trying to focus on hockey, I play when I have time for the team of the third division of Finland championship. And I am really pleased that you`ve mentioned «Tappara», because my mother, who has gone last December, dedicated 50 years to this very club. During the one of last «Tappara» home matches the minute of silence in honor of my mother was announced.
– You`ve entered the history of Finnish football as an amazing defensive midfielder. However, in hockey, unlike football, there is no midfielders – only defenders and forwards. Except for the goalkeepers, of course.

– Got it. You are interested in my position on ice, are not you? I`ve joined as forward, I always loved attacking and scoring goals. Time passed and I`ve lost my speed qualities and I switched to defense.
– Your football resume is very impressive: you`ve played for Finnish clubs as Jaro, HYK, Tampere United; Norway Molde, Lillestrom, Moss; English Stockport and Scottish Hibernian. The list is very impressive. However, what you would highlight? Where you were enjoyed playing football the most?
– (thinking) Well, I would name 1998, when my HYK played in Champion`s League and battled with famous Italian Juventus. It is a pleasure to remember that was Zidan I managed to switch off the game! By the way, Zidan recalled that episode in his autobiographic book. Unfortunately, my further career moved not so successful. I was a HYK captain, but I managed to play one and only match in Finnish championship when I broke my leg. It took me 8 months to recover and my next club bought me with a plastered leg…
– If I got it right, you`ve played a lot with a famous representatives of Eremenko`s Russian-Finnish family…
– That`s right. With the eldest Aleksey I`ve played for Jaro about 20 years ago. Now he is a coach as I am, and he has a players in his team of the age I am interested in for the national team. Thus, we are always in touch. But I would enjoy talking to him even without any service need as I admire Aleksey and his sons – Aleksey-junior

and Roman, I played with for the national team of Finland. These people deserve to be respected for their character and honesty.
– Was it the acquaintance with father and sons Eremenko that made you to understand Russian speech?
– (started answering in English before the question was translated) That is thanks to Moscow television. I was a pupil when we got a satellite TV which let us to watch Russian football games. I`ve watch it for 5 years and remembered a lot from Russian speech.
– Jarkko, your management manner is very effective and people like it: you gesture actively, applause, smile a lot…
– That is my style of work. I can`t even imagine how to be gloomy all the time. I work with young guys, I try to be as a father for them, to have a live communication, share emotions. Just imagine: we came here to St. Petersburg at a serious tournament. We came for 11 days – how can we stop smiling and cease turning my team on?
– Are you coaching at home? I mean do you have a son you teach to play football? Does your wife love this game?
– We got married early, at 17. So we are together for quarter of a century, so she got used to my football life. What about my son – he hates it. When I try to show him a match he winces and says: «Dad, it doesn't work ».

Now he has different interests – cars, illustrated books, drawing… However he is only four now, so I don`t lose my hope (laughs).
– Thanks for the conversation, Jarkko. Blessings to your family and good luck in your job!
– Thank you. And I would like to thank the organizers of Valentin Granatkin Memorial for the constant invitations of Finnish national team. Being here – a great advantage – we gain an experience of international games, visit beautiful city. It is important that St. Petersburg is so close to Finland. You can catch a train – that is fast and convenient.
Interviewed by Alexander Kuzmin