Published: Tuesday, 17 January 2017 18:45
A team of Head coaches? A decent team!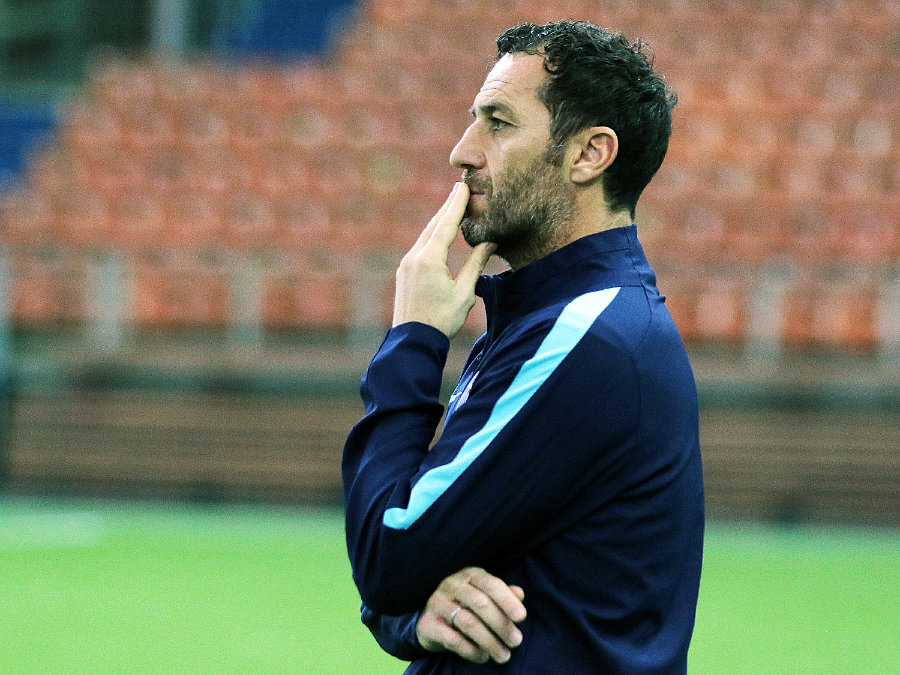 Ioannis Gkoumas is the European champion 2004 - the distinguished coach in the tournament
It's usual to put together symbolic teams on prestigious football tournaments among young or adult players. The current Granatkin Memorial is in its most interesting play-offs stage now, and the best players will certainly be selected on the last day – Saturday, January the 21st. We'd like to choose other original path and compose a nominal symbolic team consisting of… the head coaches of the participating teams. Many coaches were very strong players (in their quite recent times) and played for their national teams. Ioannis Gkoumas, the head coach of the U-18 team Greece, even managed to become the European champion in 2004! We still remember that sensational Greek team on the continental Championship in Portugal that defeated the hosts in the final match thanks to a goal by Angelos Charisteas. Gkoumas, a long-time central defender of the famous FC Panathinaikos from Athens, was in the squad of that glorious team.
Since we started talking about a great football career of Gkoumas, let us then begin to put together our star team with defenders. There is a number of candidates to join Ioannis in defense. Vitalii Levchenko will be our right back. The Head coach of the Youth Tajikistan team spent many years playing on this position in CSKA Kyiv and managed to walk a long way with this team from the first Ukrainian division to the Ukrainian Cup final and participation in the European cups! Levchenko also played a defender for the National team of Tajikistan (9 matches during a period of 1996-2000; and by the way, Igor Cherevchenko, the recent Head coach of Lokomotiv Moscow, was his partner in defense).
Oleg Fistican played even more games for his National team of Moldova – 26 matches. The current Head coach of the U-18 Moldova team is a very famous and credible footballer in his native country. He's a five-time Champion of Moldova and a two-time Moldovan Cup holder. Oleg is certainly joining the line-up of our symbolic team.
Raman Kirenkin was continuously invited to represent the National team of Belarus in mid 2000s (played 5 matches). Ex-defender of FC Dnepr Mogilev, FC Shakhtyor Soligorsk, FC Gomel and other Belorussian clubs – who brought U-18 Belarus team to St. Petersburg as a Head coach – is "going" to the central defense alongside Gkoumas.
Vytautas Vaškūnas, the Head coach of U-18 Lithuania team was also a defender during his career as a player. He did not get a chance to play for the National team, but on a club level – in FC Inkaras Kaunas or FC Atlantas Klaipeda – he was very noticeable…
A citizen of St. Petersburg Vladimir Kazachionok was always a threat to the goalkeepers
As we move on to midfielders, we find a good selection here as well. Two half-backs – the Slovenian Igor Benedejčič and the Bulgarian Viktorio Pavlov – were also representing their national teams. Benedejčič had a bit more matches for Slovenia in late 1990s (8 matches, 1 goal) than Pavlov for Bulgaria (3 matches). Almost entire career Igor was playing in midfield in his native country – for FC Koper and Olimpija Ljubljana, and had just one working "visit" to neighboring Croatia to play for HNK Rijeka. As for Pavlov, he played for PFC CSKA Sofia and PFC Levski Sofia (the two clubs representing the capital of Bulgaria are the biggest rivals!) as well as the Spanish Logroñés CF and the Greek FC Panserraikos.
Two more midfielders in our team are the Slovak Milan Malatinsky and the Azerbaijani Tabriz Hasanov. The first played for well-known Slovak clubs – FC Spartak Trnava, FC Dukla Banská Bystrica and FC Inter Bratislava. The second played for Neftchi Baku (a famous club that participated in the USSR top division), but the biggest part of his career as a player was dedicated to FC Qarabag Agdam.
The attacking line will be represented by only one forward in accordance with the fresh trend (many teams are playing offensively with the only "pure" attacker on the ongoing Granatkin Memorial). But this one is outstanding! Let us remind that Vladimir Kazachionok, the Head coach of team St. Petersburg, scored so many goals for FC Zenit Leningrad and Dinamo Moscow in 1970-1980s that he managed to get into the prestigious Club of Top Goalscorers named after Grigory Fedotov, the legendary striker. Kazachionok is ranked 68th in this Club with 104 goals in different competitions (78 goals in the USSR Championship).
As a result, our symbolic team consisting of the Head coaches of the teams participating in the Granatkin Memorial can play in a "defensive" formation of 5-4-1. This team lacks a goalkeeper only. So we have to use the virtual help of Sergei Baburin (famous for his play in Moscow clubs Dinamo and Lokomotiv in the Soviet teams) who is now coaching goalkeepers of the U-18 Russian team, headed by Mikhail Galaktionov. By the way, Galaktionov is also a graduate of Dinamo Moscow football school, but he was unable to reach the pro team due to health issues.
Two more players also finished their playing careers very early – Aleksandrs Basovs from Latvia and Alexander Kuznetsov from Kazakhstan. But every cloud has silver lining. They all began coaching successfully. Galaktionov and Kuznetsov led their teams to the Granatkin Memorial semi-finals, and Basovs was very close to do the same with his Latvian team, but lost in a penalty shoot-out to Ioannis Gkoumas and his team…
Eventually, we've got a 5-4-1 formation Baburin – Levchenko, Gkoumas, Kirenkin, Vaškūnas, Fistican – Malatinsky, Hasanov, Pavlov, Benedejčič – Kazachionok. A strong team it is, right?
Tajikistan-born Vitalii Levchenko and Bulgarian Viktorio Pavlov were both playing for CSKA. But the first played for CSKA Kyiv whereas the second – for CSKA Sofia